Schecter Guitars (1)



Schecter Guitars (2)


Schecter Guitars (3)



Schecter Guitars (4)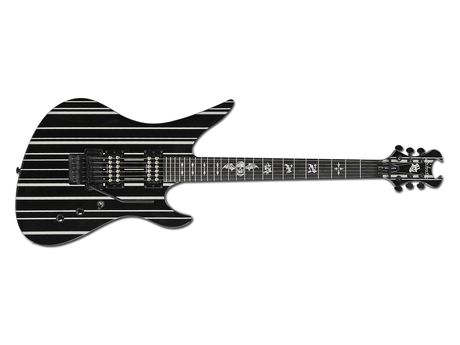 Schecter Guitars (5)
Gear : Schecter C-1 FR (White Seymour Duncan Invader Humbuckers, Dot Inlays unlike production model which has tribal on 12th fret), Jim Dunlop Cry Baby From Hell Wah Pedal, Digitech Whammy Pedal, Visual Sound H20 Chorus/Echo Pedal, Boss CS-3 Compressor, Boss RV-5 Reverb, Boss SD-1, Overdrive (For Leads), Boss PH-3 Phase Shifter, Frantone "The Sweet", Voodoo Lab Pedal Power 2, GCX guitar Audio switcher, DMC Ground Control Pro (Located on floor for Pedal Switching), Bogner Ubershall Head and 4×12 Cab, Ernie Ball 2215 Skinny top Heavy Bottom Strings.
Synyster Gates bergabung di band Avenged Sevenfold di tahun 2001, setelah mengeluarkan album Sounding The Seventh Trumpet. Ayahnya, Brian Elwin Haner Sr, yang sering dipanggil "Pa-pa Gates" adalah seorang gitaris dan sering mengisi track gitar akustik Avenged Sevenfold. Django Reinhardt, Adam Aparicio dan Roddy adalah gitaris favoritnya, dan orang-orang yang mempengaruhi permainan gitar Synyster Gates. Synyster juga menjadi anggota band Pinkly Smooth, band sampingannya dengan The Rev(drummer Avenged Sevenfold), dan mantan bassist Avenged Sevenfold, Justin Sane. Pinkly Smooth bubar karena Synyster dan The Rev dituntut untuk fokus dengan Avenged Sevenfold. Synyster juga mengeluarkan clothing line bernama Syn Gates Clothing.
Synyster Gates merupakan lead gitaris dari Avenged Sevenfold. Idealismenya untuk tetap memainkan lead gitar yang cukup ngeshredd dan menampilkan teknik-teknik arpeggio seperti Cacophony atau Iron Maiden. Bahkan di internet juga banyak beredar video bootleg Synyster yang sedang bermain solo gitar.